Gandeng ASO College, Binus Buka Program Engineering Baru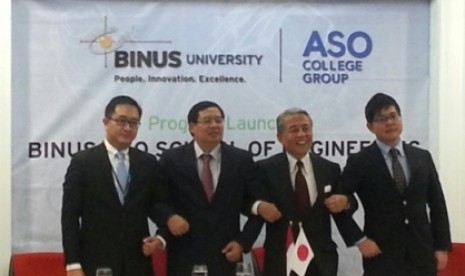 REPUBLIKA.CO.ID,JAKARTA–Binus University  bekerjasama dengan ASO College Jepang  membuka program BINUS-ASO School of Engineering (BASE). Program ini akan hadir dalam 2 bidang keilmuan yaitu Automotive & Robotics Engineering dan Product Design Engineering.
"Kami menyadari Indonesia masih kekurangan engineer baik dari jumlah maupun kualitas sedangkan seiring berkembangnya zaman, engineer semakin dibutuhkan." ujar Harjanto Prabowo, Rektor Binus University.
BINUS ASO-School of Engineering bertujuan untuk menghasilkan engineers muda berkualitas dalam bidang otomotif, robotik, dan design produk yang mapu bersaing untuk menciptakan beragam inovasi. Dengan program ini, mahasiswa dibekali dengan kurikulum berbasis industri yang akan disampaikan dalam bahasa Inggris serta tambahan bahasa Jepang.
Mahasiswa juga akan berkesempatan merasakan pengalaman langsung summer course di Jepang.
"Sesuai visi BINUS 2020, Binus berkomitmen untuk menaikkan kualitas pendidikan ke level internasional." tutur Bernard Gunawan, CEO dari Binus.
Yutaka Aso, CEO of ASO College Group mengaku sangat senang bisa bekerjasama dengan BINUS University. Menurutnya Indonesia adalah negara yang sedang berkembang, di mana masa depan industri automobile dan teknologi akan berkembang pesat.
Sumber : http://www.republika.co.id/berita/pendidikan/dunia-kampus/14/08/26/nawby5-gandeng-aso-college-binus-buka-program-engineering-baru